Have I mentioned how I was introduced to Astrology? I was a sophomore in college when I became aware my mother was an accomplished astrologer and chiromancer. How did I not know this on a waking level? We are talking about a woman raising a family in the 1950s and 1960s—a woman born in 1928 near Kenilworth, Illinois, married at eighteen, who worked at Marshall Field & Company as a buyer. She made dinner each night for her family and prepared lunch for school each day. She was a Cub Scout den mother, a PTA volunteer and a Parliamentarian. We attended church on Sundays, regularly. My mother was central casting Wonder Years–circumspect, restrained, finished, white gloves, pearls, daytime (pictured below, left). She kept her astrology interests to herself and a few friends. Her mother was a kindred spirit.
Mother and Grandmother—just another day in Wonder Years America.
For many years my grandmother (above right) worked as a psychic on cold cases with various police departments and the FBI. Her gifts, too, were not common knowledge within the family. The little girl in the lower left corner, my next sibling, would become a rated Internet psychic as an adult.
When I expressed interest to my mother in the early 1970s, she handed a box to me, a box she kept on a shelf in her personal bedroom closet. It was heavy with her books on astrology and palm reading. I was attracted to a large dark blue tome by Llewellyn George, "The A-Z Horoscope Maker and Delineator". She gave it to me with the expectation I would read it.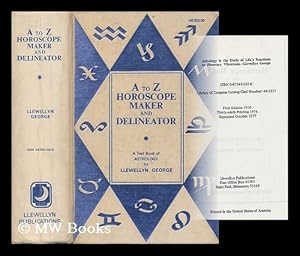 I was teaching at a private Christian day school in Los Angeles in my early twenties. I lived on North Sycamore Avenue near Third Street and LaBrea in a beautiful art deco apartment, "The Warwick". It was in this setting I spent months and months each evening studying, drawing, memorizing, drawing and re-studying what the AF calls "First Principles". It was a labor of love–and it led to a level of fluency that would afford me long conversations with my mother about the tradition and its purposes, for many years to follow. My first text–all eight-hundred thirteen pages of "A to Z Horoscope Maker and Delineator" was never far from view.
Llewellyn George's work, first published in the 1920s, is still in print. It is not the mission of the Astrologers' Folio to re- present the rudiments of astrology per se. Pioneers like George have been joined by many capable writers, schools and distant learning venues for students keen upon learning astrology in all its myriad applications, forms and interpretations.
I would go on to read Alan Leo, Israel Regardie, A. E. Waite, Max Heindel, C. C. Zain, Manly P. Hall, Arthur M. Young and Paul Foster Case throughout my twenties. I am dating myself.
Living in Los Angeles in the early 1970s also allowed me to attend meetings at the Brotherhood of Light (South St. Andrews Place between Grammercy Drive and South Manhattan Place), the Builders of the Adytum Temple (North Avenue 51 and North Figueroa), and the Philosophical Research Society (Los Feliz Boulevard near Griffith Park Boulevard). The Bodhi Tree Bookstore (on Melrose Avenue) as originally presented by Stan Madson and Phil Thompson was a remarkable destination to visit, always humming with a diverse community of seekers, students and mentors.
The writers I have named and the venues listed represent a rich vein to mine. I am very grateful for this exposure while a young man. I can only wonder what was also taking place at a non-waking level–given how open I had become to breathing in the ideas and images of astrology and its practices. I would eventually move away from Los Angeles with the many conversations and images to keep company in memory. Upon returning to Los Angeles several years later, the public presence of the Brotherhood of Light, the Bodhi Tree and even the Philosophical Research Society were gone or changed. The Builders of the Adytum continues (as of 2019) at its Avenue 51 location.
Like my parents, as a young man I maintained an outward appearance of conformity within the community, as husband, father and working professional–while reading, corresponding and studying Western Mystery Tradition subjects at home in off hours. On a rare occasion I would teach a a small group short course, usually one evening a week for four weeks. At Radcliffe College I taught a non-credit class in epistemology and language–featuring the symbols of astrology as syntax. Over time, my heart and imagination would come to recognize a preference for the esoteric or spiritual expression of hermetic studies.
The renown Canadian literary scholar and critical theorist, Northrop Frye, was a visiting professor at Harvard College during my sophomore year. He taught a full year survey course which I attended. One day after class I went to the front of the lecture hall to speak with him. I wanted to know what he knew about the Gematria–something he said during the lecture made me wonder if there was a connection with the Gematria and a point he was sharing. He spoke for several minutes, seamlessly, and eloquently on the Gematria, as if it was understood all responsible literary scholars were well traveled in such subjects. I thought he was remarkable before I asked a question. I still read Northrop Frye's work today. For students unsure how to incorporate the Bible into their studies, especially if the regions of a Western Mystery Tradition beckon, Northrop Frye's writings on biblical typology can be useful.
From, "The Great Code, The Bible and Literature", by Northrop Frye: "… the secret of wisdom is detachment without withdrawal"; "The apocalypse is the way the world looks after the ego has disappeared."
I am now in my late 60s (2019). My interest in Astrology has been tested and is unflagging. My qualification to author the occasional post is self-taught. I sense it may be time to externalize recurring reflections I have found helpful. For those of you keen upon learning Astrology and related subjects at a technical level, the AF will encourage you but it cannot become a destination for you. Instead, the AF, will have to suffice as a pleasant fillip. Think Prufrock meets AF, as co-travelers: "attendant Lords…that will do to swell a progress, start a scene or two…"
It is a privilege to journey with you. Shall we press ahead?
The illustration above is a speech. We could stop here. Maybe we should.
As long as we stay mindful what I attempt to convey, and what you may infer–are likely to be asynchronized—but overlapping at the edges, we can celebrate the process and continue! Human beings really do desire to commune with other human beings, with Nature, dreams, hopes and wishes. In this spirit, we have it on good authority, Prufrock, as do I, gladly present to you our coffee spoons.
The next section briefly describes the writers named earlier in the post. The thumbnail statements provide some idea of the teaching milieu I kept long ago at the onset of my exposure to wisdom literature.
Alan Leo, 1860-1917. Claiming astrology had powers to predict was often litigated in the early 1900s. Leo, worked hard to transition Astrology from a motif for predicting to character analysis. He made more than one trip to India to study astrology. His sun sign, Leo, became his professional name. His given name was Allen, William Frederick Allen. Sun sign: Leo (second decanate) Moon: Aries (second decanate) Ascendant: Leo (third decanate) Chiron: Aquarius (third decanate)
Israel Regardie, 1907-1985, knew Aleister Crowley and worked as his secretary, moving to Paris to do so in 1928. Regardie is closely associated with documenting the secrets of the Hermetic Order of the Golden Dawn in the late 1930s. He earned a doctorate in Psychology–was particularly engaged by Jung's work; late in his career he would develop a practice as a chiropractor. A devotee of yoga he was born Francis Israel Regudy in London. Sun sign: Scorpio (third decanate) Moon: Aries (third decanate) Ascendant: Scorpio (second decanate) Chiron: Aquarius (second decanate)
A. E. Waite, 1857-1942, is credited with being the first to systematically document Western occult history. He was affiliated with the Hermetic Order of the Golden Dawn beginning in 1891. He is remembered for co-creating the Rider-Waite Tarot deck of (78) cards, first published in 1907. He was born in Brooklyn. Sun sign: Libra (first decanate) Moon: Pisces (third decante) Ascendant: Sagittarius (third decanate) Chiron: Aquarius (first decanate)
Max Heindel, 1865-1919, founded The Rosicrucian Fellowship in Oceanside, California (as early as 1909). Knew Rudolf Steiner (founder of Anthroposophy) by way of traveling to Germany in 1907. Heindel drew heavily upon information made available to him via inner planes contact with a 14th century entity identified as an Elder Brother of the Rosicrucian Order. Heindel was a Christian mystic. Born in Denmark as Carl Louis von Grasshoff. Sun sign: Leo (first decanate) Moon: Leo (first decanate) Ascendant: Sagittarius (second decanate) Chiron: Aquarius (first decanate)
C. C. Zain, 1882-1951, founded the Church of Light on 1 November 1932, in Los Angeles, in response to an ordinance "prohibiting both the teaching and practice of astrology." He studied with the Hermetic Brotherhood of Luxor (Denver) from 1909. Zain would establish the Brotherhood of Light (1915 in Los Angeles) as a secret society. Opened the Brotherhood of Light to the public to "bring occultism to the life of ordinary people (Horowitz)" on 11 November 1918. His last residence in Los Angeles was located at 117 Coral Street—(later changing to 2337 Coral). Born Benjamine P. Williams, used Elbert Benjamine before adopting Brotherhood of Light pen name C. C. Zain. Sun sign: Sagittarius (third decanate) Moon: Capricorn (second decanate) Ascendant: Sagittarius (first decanate) Chiron: Taurus (third decanate)
Manly P. Hall, 1901-1990, Canadian born, was ordained a minister of the Church of the People (Los Angeles) in 1919. The wealthy Carolyn Lloyd family of Ventura County financed Hall's first worldwide tour to acquire texts, folios and illustrations of ancient wisdom literature. Hall embarked on his first buying trip on 5 December 1923. In 1934 he would found the Philosophical Research Society (Los Angeles). On 8 December 1973 a ceremony to recognize Hall as a 33d degree Mason took place at the Philosophical Research Society. Sun sign: Pisces (third decanate) Moon: Aquarius (third decanate) Ascendant: Aquarius (second decanate) Chiron: Capricorn (first decanate)
Arthur M. Young, 1905-1995, after retiring as an engineer, design innovator and patent holder leading to the production of the Bell Helicopter Model 30, Young founded the Institute for the Study of Consciousness in 1952 (later to become the Institute for the Study of Consciousness). He authored "The Reflexive Universe: Evolution of Consciousness" in 1976. Arthur M. Young was an engineer, student of evolution and astrologer. Born Arthur Middleton Young. Sun sign: Scorpio (second decanate) Moon: Aquarius (first decanate) Ascendant: Sagittarius (second decanate) Chiron: Aquarius (first decanate)
Paul Foster Case, 1884-1954, was an accomplished violinist and conductor–a career he would forego to pursue his occult research, teaching and writing. He would report his first inner planes contact with Master R in 1921. The "Book of Tokens" would be revealed to Case through automatic writing and meditation guided by his relationship with Master R. In 1922 he would establish the Builders of the Adytum following three weeks of in person instruction with Master R. The Liberal Catholic Church in Ojai, California, ordained Case a priest in 1937. He affiliated with Eagle Rock Masonic Lodge No. 422, Los Angeles on 2 June 1953. Case would correspond with Rudyard Kipling about lucid dreaming, Israel Regardie over concerns with the Golden Dawn. His contribution to the study of Tarot distinguishes him among 20th century occultists. David Lober introduced me to Paul Foster Case's work in 1973. At the end of his life he lived at 5336 Highland View Place in Los Angeles. He died in 1954 while visiting Mexico and is interred at Forest Lawn Memorial Park in Glendale, California at Haven of Peace Plot, Map 1, Lot 16, Space 4. Case was born in Fairport, New York (near Rochester). Sun sign: Libra (second decanate) Moon: Pisces (third decanate) Ascendant: Sagittarius (first decanate) Chiron: Gemini (first decanate)
As this post has taken form, it is apparent the extent to which my teachers on the outer planes are over-weighted with late 19th and early 20th century Western Mystery Tradition influences–a time closely connected with my mother's incarnation, not surprisingly.
At the turn of the twentieth century, what would capture the attention and shape the trajectory of Western Mystery Tradition teachers for the next 100 years?
Answer: Just as the 20th century commences, on an unseen passing lane, a Probabilistic view of Nature overtakes first causes, and with it, a centuries' enduring Mechanical view of Nature is diminished! It would not be enough to simply pass Newton and Hobbs and Descartes; quantum mechanics and general relativity theory would accelerate as they rushed into view–only to vanish over the next horizon. In 1905 no one sensed the paradigm shift to follow; a shift so wrenching it would radicalize Western thinking, and with it, engender epic, tsunami-like, institutional destruction in its wake. Unprecedented international geo-political carnage, now viewed in arrears, would define the 20th century–all the engineering, medical, aerospace, mathematics, miniaturization, and natural scientific achievements notwithstanding.
As the Edwardian Era draws to a close, institutions of wisdom literature are going to be fully re-considered. The likes of Planck, Einstein, Bohr, Schrodinger, Broglie, Dirac, Freud and Jung with their Probabilistic view of Nature, including human nature, unseat Descartes to Newton as long-term Mechanical view incumbents. To what end? No longer shall secret societies, nor priest to catechumen covenants, control the orderly transfer of metaphysical knowledge as power.
120 years years later institutions requiring "rules" are out [family, employment, government, higher education, religion, politics]. Borderless (wireless) skepticism has settled in. A waking joylessness, on a macro level, holds sway.
Motherhood, Mother's Day, Maternity, and Mom–sentiments deep and abiding, remain unassailed! This is how we know the malaise is seasonal and not permanent. We are close to Mother's Day 2019 in America. To be able to acknowledge my mother, her mother and, as I close this post, the mother of my children, is an honor. Thank you, Moms-all!
Heart-mind preparations beckon! So let it be done.
Bless you. Until we re-connect, we bid you peace.
Frater A
Should you have time to consider a musical reflection to accompany this post, we refer you to Deuter – Koyasan's instrumental performance "Sound of Invisible Waters" —from the album "Koyasan –Reiki Sound Healing". Post No. 8 is about influences–what we begin to allow in via the senses en route to deep-Self experience in and out of Time.
A Reference of symbols, charts and definitions important to Western Mystery Tradition studies is listed as Post No. 900. Enter "900" in the Search box to be directed to this location.
© 2016-2019 Astrologers' Folio, Astrologers'-Folio.com, all rights reserved.